Multi-Asset

Brokerage
Solutions for stock and multi-asset brokers. Trading technologies and applications for the securities market.
contact us
Consulting
We provide technological and legal advice to optimize your financial business
Customization
Implementation of ready-made IT solutions and development of individual products for global brokerage companies
Cooperation
Marketing partnership, outsourcing of secondary functions, interaction with counterparties
Potential
We believe that the combination of changing customer needs, the development of technologies and the emergence of a new ecosystem of financial institutions creates huge opportunities for the growth of modern online brokers. Our experts in the development, design and promotion of fintech products are united by a single goal — to create a user experience that opens up new markets and contributes to the commercial success of our clients.
Possibilities
24/7 maintenance
Liquidity from prime brokers and exchanges
Access to international markets
Platforms and APIs for traders
Asset management software
Corporate branding
Trading
Platforms
We offer a choice of several multi-market terminals adapted to the interests of both professional and novice traders. The platforms are fully compatible with most browsers and operating systems. At the initial setup stage, the user interface will be branded based on the broker's corporate identity.
Trading terminal for Windows, Mac, Linux
Advanced features for scalping and HFT
Customized workspace
Algorithmic and basic order types
Strategies testing in real time
Trading Volume Analysis Tools
Online platform does not require installation
Encrypted HTTPS connection
Flexible personalization of modules
Cross browser compatibility
HTML5 Chart Library
One-Click trading
Mobile apps for iOS and Android
Multilevel security system
Alerts and push notifications
Portfolio positions display
Keep the market close at hand
Real and demo accounts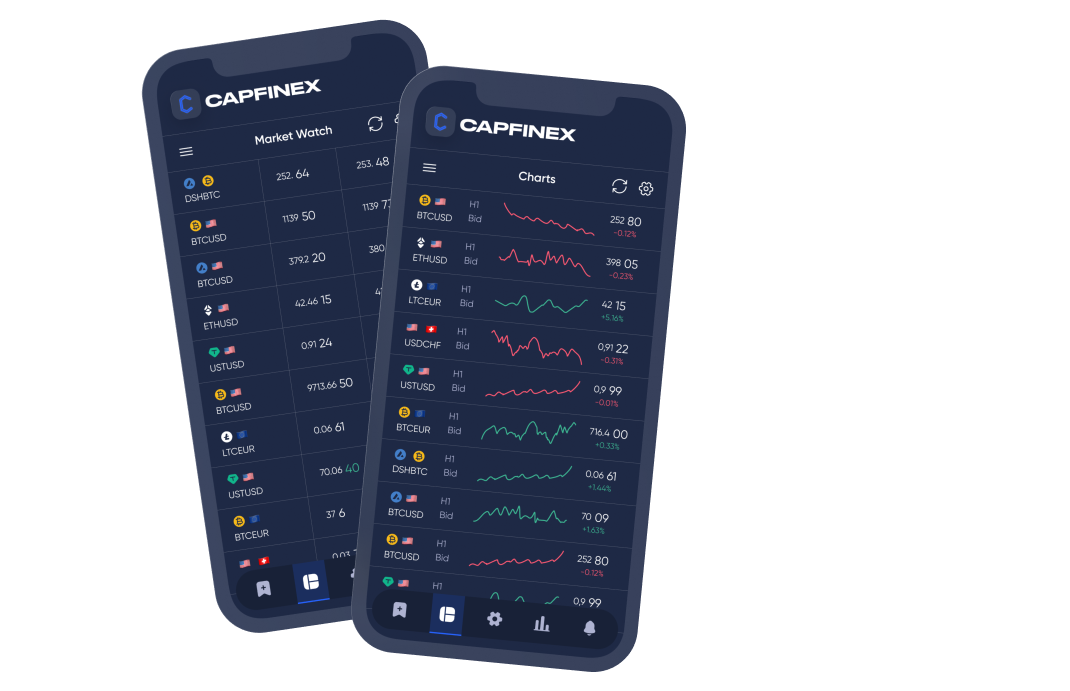 Broker Back
Office
Management system of business processes and the company's administrative activities. Distribution of rights and roles between departments and individual employees. Internal accounting of client accounts, transactions, and financial operations. Connection of third-party services, AML/KYC services, payment systems. Automation of regulatory and internal reporting.
Admin Panel
Web interface to automate and monitor business operations in real time
CRM System
CRM for customer data accounting, key performance indicators for marketing and sales
Liquidity Aggregator
Full control over liquidity and quote flows, integrated risk management solutions
Payment Gateway
Providing seamless integration with any payment methods and digital wallets
Trader's
Room
The client office allows you to organize and manage connection between users and the brokerage company.
After registering an account, each client passes a verification to confirm their identity by uploading certain documents. This process can be carried out manually or automatically (KYC-outsourcing) at the discretion of the admin.

In their account, traders can track the flow of funds, replenish the deposit balance, and withdraw capital using one of the pre-activated methods. You can set up a convenient communication channel through tickets or notifications, launch mass mailings and advertising campaigns.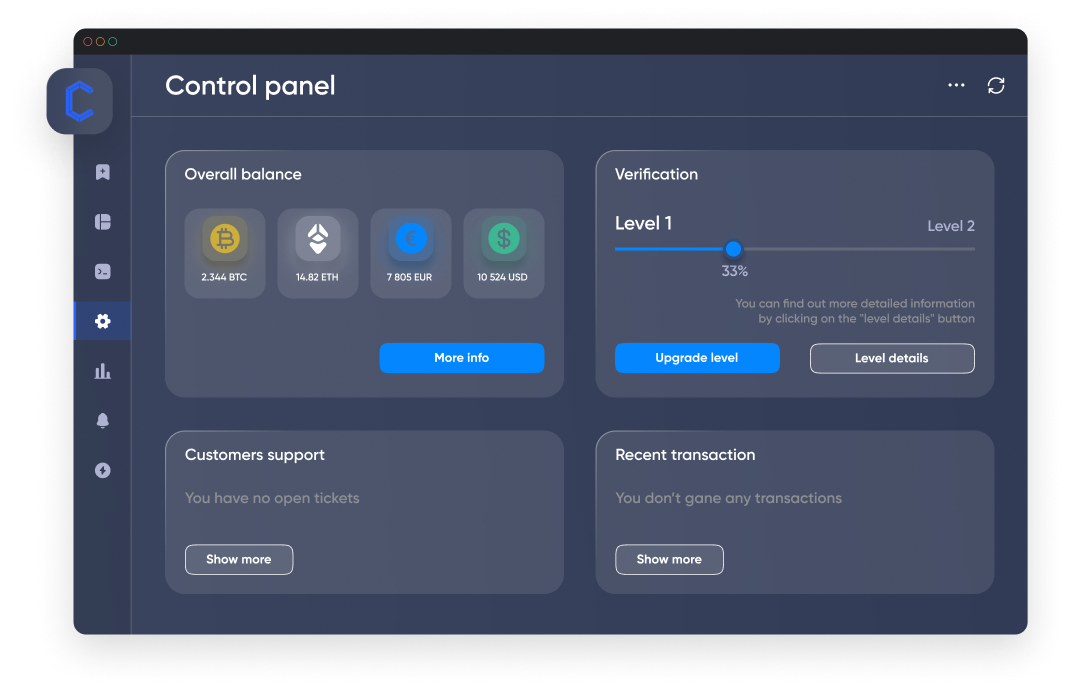 Key Advantages
Take full advantage of SaaS solutions, microservice architecture and expert support. Become an international multi-asset broker or work locally within a specific location.
Any Types of Assets
Give your clients direct access to most classes of financial assets. Market and margin trading mode. Smart routing and high speed of order execution
Stocks
ETFs
Bonds
Futures

Options
CFD
Currency pairs
Cryptocurrencies
Direct Connection
Manage your liquidity through the Gateway API to expand your offer for your clients. Set up the necessary IT-infrastructure parameters and control the entire ecosystem of integrated partners.
Stock exchanges
Crypto exchanges
Market makers
Hedge funds

ECNs and MTFs
Prime brokers
Broker-dealers
Limitless Growth
Grow at your own format and pace. Conquer new markets and attract new active traders to your brand. Add up your total income from a range of sources.
Commissions from turnover
Spread markups
Margin lending

Portfolio investment
Currency exchange
VIP services
Any questions?
Let's discuss your project? We specialize in comprehensive solutions for both startups and advanced brokers. Contact us in any convenient way or use the feedback form.